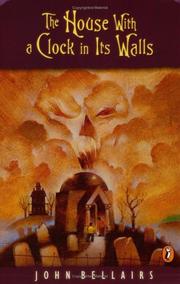 THE HOUSE WITH A CLOCK IN ITS WALLS
by John Bellairs; Illustrated by Edward Gorey (!), (Puffin (reissue), 2004)
GENRE:
Horror
HONORS:
ALA Children's Book of International Interest Award (1973); NY Times Outstanding Books of 1973 Award; Maude Hart Lovelace Award nominee (1982)
REVIEW:
The House with a Clock in Its Walls
is classic Bellairs - creepy, gothic and appealingly atmospheric. Recently orphaned Lewis Barnavelt goes to live with his Uncle Jonathon in a gorgeous, mysterious house. But all is not as it seems - the house used to be owned by a powerful warlock and the warlock's even more powerful wife, Selenna. Adding to the creepiness is the fact that a clock ticks somewhere deep in the house, but though Jonathon looks for it every night, he has never been able to find it. When a spell goes wrong and Lewis accidentally raises Selenna from the dead, Lewis, Jonathon and Jonathon's neighbor, Florence Zimmermann (a powerful witch), must defeat Selenna and find the clock before it counts down the time to Doomsday. With it's carefully wound tension and foreboding atmosphere,
The House with a Clock in the Walls
is a delicious read. Plus, one gets the added benefit of enjoying Edward Gorey's illustrations, which perfectly off-set Bellairs's tempered gothic prose.
OPINION:
Pleasantly spooky and very well-paced,
The House with a Clock in Its Walls
may not be as flashy or irreverent as modern horror, but it's understated and tense and oddly charming. It's a quick, fun read and will mostly likely surprise tweens at how hard it is to put down.
IDEAS:
A great addition to a Halloween, haunted house or ghost story display,
The House with a Clock in Its Walls
is also a good suggestion for tweens who prefer their horror to be that of the "creepy, suspenseful" variety rather than blood and guts.