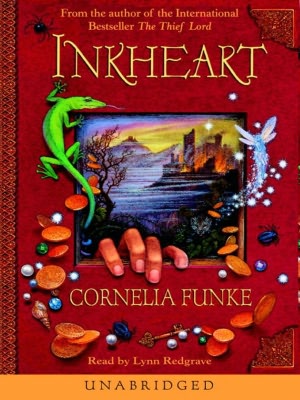 INKHEART
by Cornelia Funke; Read by Lynn Redgrave. (Learning Library Audio, 2005)
GENRE:
Adventure / Audiobook
HONORS:
None
REVIEW:
Inkheart
is the story of a girl, Meggie, her bookbinder father, Mo, and the trouble that lands on their doorstep when a figure from Mo's past arrives one rainy night. Though exquisitely detailed with adventures and secrets and nefarious doings and hard-won triumphs,
Inkheart
is, in the end, a love note to books. Meggie is a born reader with a reverence for the printed page that she inherited (along with a slightly more dangerous gift) from her father. Solace and comfort are found between the pages of various stories, which is interesting because the novel's greatest villain also springs forth from the written word. Though overlong at times, (the book sometimes stalls under the weight of Funke's admittedly beautiful descriptions),
Inkheart
is a pleasure - truly engrossing, charmingly adventurous and satsifyingly resolved. The audiobook also has the advantage of being read by Lynn Redgrave whose vocal performance is nuanced, varied and masterful. Somehow she manages to sound equally convincing as an illiterate thug as she does as a twelve-year old girl. A real treat.
OPINION:
The novel is tailor made for younger tweens hungering for an "epic" series to try. Though the action is dark at times, and genuinely a bit frightening, the story follows many of the tropes established in the books that Meggie so loves. In this way,
Inkheart
is oddly comforting, even as it keeps you on your toes.
IDEAS:
A wonderful suggestion for reluctant readers, boys and girls alike. Also a great pick for a tween book club, especially if the members tend towards the younger side.